The Greenfield Gallery presents
"We'll Show U"
A Self-Curated Group Show featuring Rachel Cyrene Blackman, Bil Gardiner, Emikan Sudan, Youme Nguyen Ly, M Rudder, and John Vo
---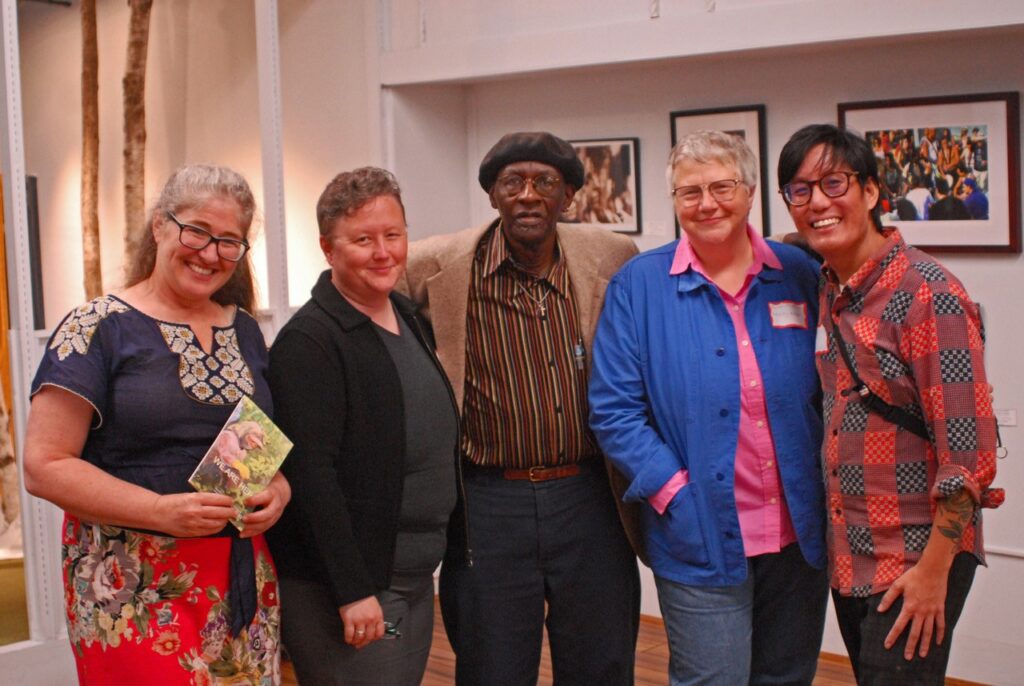 We'll Show U
"We'll Show U" is a self-curated group show featuring the works of six diverse artists including: photographers Rachel Cyrene Blackman, Bil Gardiner, Emikan Sudan and Youme Nguyen Ly, illustrator  M Rudder, and illustrator/mixed media visual artist John Vo.  The context of the show's title derives from Artists' U, a months long interactive curriculum for building skills and community to sustain our art practices.  The six diverse artists in this show met through a thirty person statewide cohort as sponsored by Assets for Artists at MASS MoCA.
Rachel Cyrene Blackman  is a public arts creator, programmer and studio artist. Her studio work with photography, posters and writing pulls meaning and emotional nuance from the obvious and mundane. Balanced with creative introspection is a broad sense of play and active inclusion which was reflected in the 'Florence Poetry Carnival' a community event she founded, programmed and coordinated, and the Free Pass Project which is an ongoing social practice of 'spontaneous compassion and conversation.'
Bil Gardiner (he/him) is a professional portrait photographer who actively engages with the world through his photography. From April 19, 2012 to April 18, 2013, he embarked on a yearlong personal assignment "A Picture a Day," carrying his camera with him wherever he went, producing one image every day for a year. Through this body of work, a fellow artist noted that his work resembled the Tibetan concept of Miksang, or "Contemplative Eye." In this way, his work captures only segments of objects, rather than the whole, inviting the viewer to deeper contemplation. Bil, a lifetime learner, also likes to teach photography all around the central Massachusetts region.
Youme Nguyen Ly (she/they) is a Massachusetts based author and illustrator who has lived and worked in Haiti, Laos, Kenya, Japan and the United States. She collaborates with individuals and communities to share collective stories of social justice, reciprocity and joy.
M Rudder (they/them) is a queer and trans Japanese-American artist creating work that explores the intersections of the natural world, gender identity, the sacred, and belonging. They are here to create images, spaces, writings, and conversations that call out to us to remember that we belong. To the earth. And to each other.
Emikan Sudan (he/him) started out as my family photographer which grew into Image capturing of theatrical & musical performances for publicity. That grew into a visual study @ HCC and the University of Mass where I received a B A in Visual Arts from their University Without Walls Program. His visual arts image capturing has grown from performances to capturing moments in life be they nature abstracts or a homeless woman making her way through the Paris metro or a window within a window.
John Vo (he/him) is a working artist and community organizer based in Worcester, Mass. They create textile paintings inspired by their family's migration story from Vietnam. The work they do in a larger sense explores concepts of identity and belonging; and investigates the diaphanous quality to memory and remembering in relation to meaning.
---
---