The Greenfield Gallery
presents a group of works by
Massachusetts artist Dug Morton,
guest curated by
Tamar Russell Brown of Gallery Sitka™.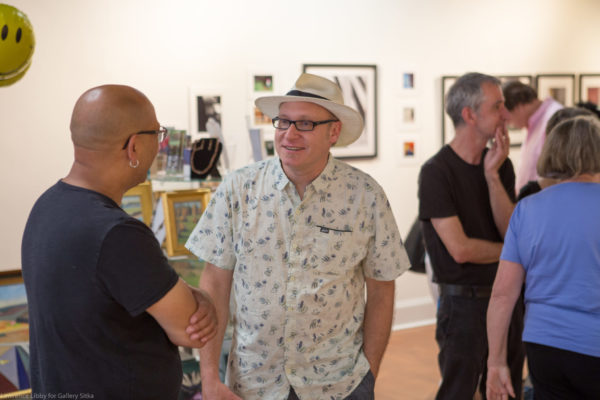 Dug Morton
Dug Morton's early paintings were Impressionist, focused mainly on still life and landscape, frequently done en plein air. From there he started pursuing Expressionism, mostly figurative. In 1994, the artist started off in a new direction in which he pared down the visual elements so that color and texture became the subject matter.
The simplicity of these Minimalist abstractions occupied his work over the next few years. Developing a style, he calls "Organic Geometry," Mr. Morton later allowed the abstraction in his work to be more lyrical and painterly, while still retaining a geometric underpinning. These pictures were created through a balance of the analytical versus the visceral, through boldness versus subtlety. Recently Dug has delved back into representational work. He has been excited to see how the long run of geometric abstraction has influenced his depiction of figures, objects and ground.
Dug Morton is a native of Groton, MA.
Artist's Statement
My life as a painter began in the 1980s with a love for impressionism. My pictures of landscapes, figures and still lives reflected this. By the early nineties my work had moved into abstraction. For the next 25 years I have worked mostly in abstraction, primarily geometric in nature.
In the course of working abstractly my main concern was communicating ideas through formalist means – color, line, shape and texture. My preferred subject matter became dichotomy and duality, such as the beauty found in the Disaster Series of paintings from 2007-2011.
Occasionally there have been forays into representation, most often in an expressionist tone.
By the late 2000s the fluidity of my representational paintings began to materialize in the abstractions, starting a course of cross-pollination, with formal elements becoming more prominent in the representational pieces.
Now I seek to paint about dichotomy and duality representationally, but not within a single picture, as in the abstractions. Rather, I want to express this through a grouping of pictures that address, as a whole, a wide range of sometimes opposing ideas and emotions. These include discord and harmony, innocence and guilt, happiness and sadness, confusion and understanding, the known and unknown, quietude and energy, tragedy and triumph.
MY PROCESS
The titles of my work usually reference feelings or ideas because that is what they are about. Those things are what drive my creative force. As a painter in particular, I am in love with colors, shapes, texture, line and composition. I find my images everywhere. For example, I might see a scene as mundane as a dumpster alongside a stack of crates in front of a concrete wall at the back of a restaurant, and the colors and shapes and textures just happen to strike me, I will snap a photograph and use that to start a piece. Once the painting is in progress, I generally have no interest in "depicting" the items in the image. Rather, it is those formal elements that attracted me that I latch on to, letting them evolve and morph into something that feels like a world unto itself. The piece becomes an expression of my inner life.An alternate form of my process occurs when I have a commission. They are sometimes abstract and sometimes representational, depending on what the client wants. I collaborate with the client to decide the nature of the image. In that process we each bring ideas, bandy them about, eventually settling on a concept that incorporates and represents a melding of the varied views. The result is usually a revelation of a new and unique image.
Artwork by Dug Morton
---
---